The Council of Fashion Designers of America had their awards ceremony and the big winners were: Kate and Laura Mulleavy for Rodarte with the Womenswear Designer of the Year Award; Scott Sternberg for Band of Outsiders and Italo Zucchelli for Calvin Klein Collection tied for the Menswear Designer of the Year Award, and Jack McCollough and Lazaro Hernandez for Proenza Schouler won Accessory Designer of the Year.

The Swarovski awards for emerging talent, meanwhile, went to Alexander Wang for Womenswear, Tim Hamilton for Menswear and Justin Giunta for Subversive Jewelry for Accessory Design.

Anna Sui was honored with the Geoffrey Beene Lifetime Achievement Award, and the International Award went to Marc Jacobs for his work at Louis Vuitton. Ralph Lauren won the first Popular Vote award.

First Lady Michelle Obama received the CFDA's Board of Directors' Special Tribute. She's just fabulous!

WWD editor in chief Edward Nardoza was honored with the Eugenia Sheppard Award, while Jim Moore, creative director of GQ, took the Eleanor Lambert Award.

Now, for MY red carpet vote:


The Good
Zoe Saldana in Calvin Klein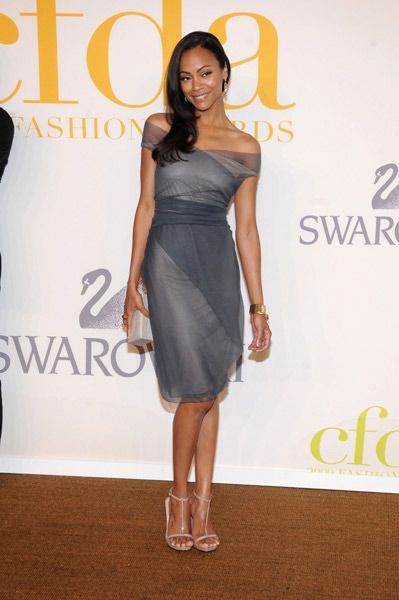 Kerry Washington in Doo.Ri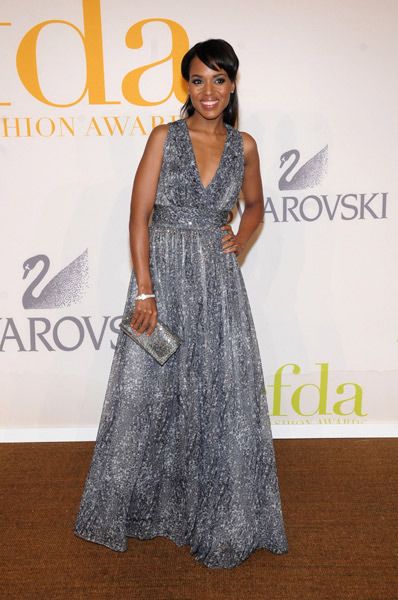 I really wish that Rachel Zoe would pack on a couple of pounds so her clothes don't always swallow her whole, but she looks nice.



Molly Sims in Dolce & Gabbana...I wouldn't wear Marilyn Monroe's face all over my dress, but you have to love the play on the classic Marilyn-with-the-wind-up-her-skirt look. That's artistic genius right there!



Kirsten Dunst in Rodarte. The shoes are definitely unexpected, but I get it!



Nobody pulls off pregnant like Heidi Klum...NOBODY.



Coco Rocha in Michael Kors.



Hilary Rhoda in Calvin Klein...just gorgeous!



Diane Kruger can do NO wrong! She's wearing and is pictured with Jason Wu.


The Winners? Hilary and Diane...hands down.


The Bad
I don't expect Vera Wang, who is known for her elegant designs to necessarily wear that style, HOWEVER, I DO expect more than this.



Again, Tracy Reese is one of my favorites, but the bodice of this dress didn't do much for her silhouette.



Tory Burch in Tory Burch



Rachel Roy in one of her designs. Love the dress, hate the shoes. They are too heavy and harsh for that dress.



*deep sigh* Donna Karan



Kate Mulleavy, Kirsten Dunst and Laura Mulleavy. While I assume that Kirsten is in Rodarte, I am going to venture to say that the designers, Kate and Laura are not. Darn shame too.



Ashley Olsen in a vintage dress. I would've liked this as a jumper. This boxy dress just swallows her little frame up.


Okaaayyy, so I'm noticing that the trend here is that all of the Bad looks are designers. Those that can't do...???

The Ugly
Zac Posen and Doutzen Kroes in Zac Posen...I LOVE Zac Posen, but I'm not liking this red satin and chiffon explosion.



Anna Sui...uh uh.



Too bad Erin Fetherston wasn't wearing fur. PETA would've done her a favor by splashing some red paint on her. Girlfriend needs some COLOR!



Daphne Guinness in Proenza Schouler. I think this was one of those situations where your shoes matched at home, but then you get out to your destination and you realize that the lighting OUTSIDE of your home is NOT the same.




The Miscellaneous
I guess Ricky and Ralph Lauren have been to so many of these that they are just to jaded to care about a dress code...I kinda like that.



One of my favorite couples: Marc Jacobs (right) and his fiance Lorenzo Martone (left)...they're SO cute!



Ms. Diane Von Furstenberg is such a classy woman.



Alexander Wang with Dree Hemingway in his design. Now Alexander looks fine, but I'm afraid to witness the men's short and dress shoe trend in the real world. I know that its bound to go terribly wrong...



Source: WWD