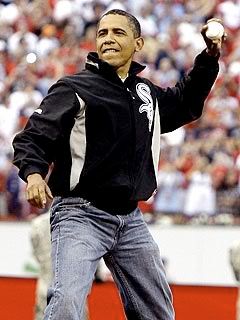 President
Barack Obama
threw the ceremonial first pitch before the All-Star Game at Busch Stadium in St. Louis yesterday. He wore a pair of jeans and a black baseball jacket emblazoned with a white script S-O-X down the left side. "My wife thinks that I look cute in this jacket," he said later on the Fox game telecast.
Well, I have to admit that although he could've worn some more fashionable men's jeans, he gets a pass. Why? Because
He's the president
He's attractive enough that he doesn't have to be a fashionable man at all times and like his wife, Michelle said, he does look cute in that jacket.

He's from my side of town which means he loves the White Sox (sorry Cubs fans)
I LOVE him and am totally biased
He even practiced a bit beforehand to make sure he got it right.
"Well, I think it's fair to say that I wanted to loosen up my arm a little bit," he said. "You know, my general strategy the last time I threw a pitch was at the American League Championship Series, and I just wanted to keep it high.
Here he is throwing that last pitch in a slightly more fitted pair of jeans. Gotta love him!