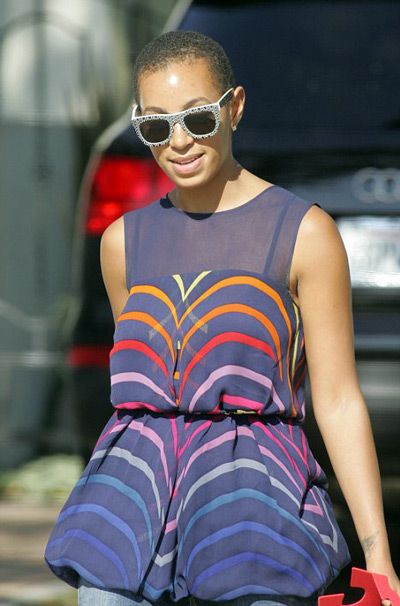 They say that for every action there is an equal and opposite reaction. Well, Tuesday,
Mrs. Obama revealed her new cute and sassy haircut
, and now Solange has followed up with this poor-looking, broke-off, I-am-three-years-old-and-my-momma-cut-my-hair-believing-she-could-for-the-first-and-last-time-after-my-daddy-sees-this-mess fade. I am all for the almost-bald female haircut (i.e. Amber Rose), but I wouldn't date a
guy
that came up to me looking like this, so I expect
way
more from her...
WAY
!!!
I am really sitting here in complete and utter shock and disatisfaction. Did she do this herself? Did she go to a trained barber/hairstylist? Why isn't it lined up? Why isn't it moisturized? Why isn't it brushed? Just...WHY...???