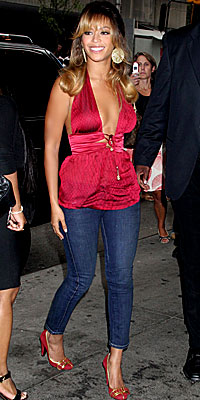 Sure, Beyonce looks chic rocking her
Siwy Hannah Slim Crop jeans
(though she looks good in just about everything...I know I know life is unfair), but this style is NOT for everyBODY. Petite women (5'3" and under) should steer clear of these...unless you want to look even shorter (think lollipop guild). Shorter women should definitely go for a longer pant leg to
E L O N G A T E the leg.
Besides, being that the petite (myself included) always have to buy jeans in which inches of our precious denim has to be hacked off to fit, wearing crops/capris that are made to fit taller women will only make us look like our pants are too short. And short people wearing "floods" is like an oxymoron or something! Now, the only exception is if you are VERY petite and a cropped inseam will fit you like a regular pair.
Average to taller girls: Knock yourself out.